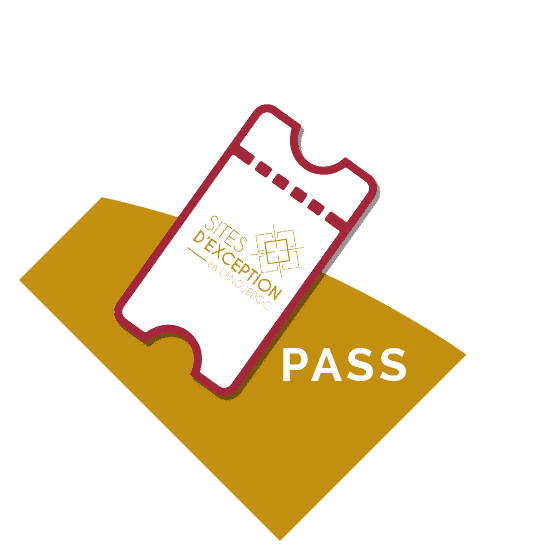 The Sites d'Exception en Languedoc have a free have a free PASS, valid for 2 people.
You can now take advantage of lower prices on all of the network's member tourist sites. Find out more about the advantages and features
Visits at discounted rates
Are you on holiday or do you live in the region ? Do you want to discover the remarkable heritage of Languedoc while making the most of discounted prices ?
The PASS is the perfect asset for your visits.
Ask for one when you first visit one of the network's sites and then enjoy up to 3 Euros off per person to enter any of our member sites and up to 10% off our partner services: barge ride along the Canal du Midi, tasting and buying wine or organic olive oil…
"To find out the privilège entry fee, go directly to the PAGE of the site you want to visit.
You'll find all the visit prices (PASS price, full price, price for children, etc.)"
Some remarkable tourist sites
---
The Privilege Card enables you to access 20 must-see tourist sites in the Languedoc (Occitanie region) by also taking advantage of preferential rates with a constantly-expanding network of Sites d'exception en Languedoc.
 You can also make the most of discounts and advantages with our 8 partner tourist service providers .
In short, the card allows you to visit the exceptional heritage sites of Languedoc all year round at reduced rates: open visits, guided or audio-guided tours, barge trips on the Canal du Midi, little train ride amongst the vines, organic olive oil or wine tastings and purchases…
The heritage of Languedoc :
Relive the History and passion of those who have left their mark on these lands. Equipped with your card, visit an exceptional heritage site, like the château-abbaye de Cassan, nicknamed little Versailles in Languedoc, or the Saint Michel de Grandmont Priory, a real Roman architecture gem. Walk in the footsteps of the Gallo-Romans at the museum and archaeological site of Ambrussum.
Stopover at the Maison Noilly Prat, a world-renowned place where one of the first French vermouths has been developed in secret for over 200 years.
Visits for all the family to enjoy:
Enjoy reduced rates with your family, where you'll be enchanted by the magical show at the Grotte des Demoiselles, a geological gem of the Massif du Thaurac, or the Grotte de Clamouse and its "Spéléopark" (underground adventure trails), a unique concept for a fun and dynamic way to discovery this underground setting, globally renowned for the wealth of its concretions.
A protected land:
Visit Valmagne Abbey, one of the most important Cistercian abbeys in France, and taste their wines from one of the oldest vineyards in Languedoc.
Become one of our privileged visitors and take advantage of our discounts when visiting our exceptional tourist sites.